Tracing Housewives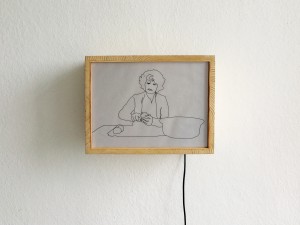 # first approximation: Jeanne Dielman
2014
Tracing Housewives # first approximation: Jeanne Dielman relates to the movie Jeanne Dielman, 23, quai du Commerce, 1080 Bruxelles by Belgian filmmaker Chantal Akerman. 
Jeanne Dielman. Belgium/France 1975. 
193 min. Col. French with English subtitles. 
The movie shows three days in the live of a housewife and widow who is subdued to a meticulous planned daily routine. Starting with preparing breakfast for herself and her son, shopping, cooking to seeing on trick a day. When she overcooks the potatoes the second they, everything starts falling apart.
Thinking about Marx' explanation of capitalism and Silvia Federici and others women criticizing him in 1974 with the campaign "Wages against housework" (Jeanne Dielman was published in 1975), an outline-drawing of Jeanne Dielman appears as the image of an iconic housewife, whose dependency stems off her non-paid labor. Jeanne Dielman's depicted at the beginning of her crisis (the moment right after the potatoes overcooked) is picked and presented in a bright warm light. 
digital drawing in lightbox